The Infrastructure and Projects Authority (IPA) has released its update to the Construction Pipeline for 2021/22. It outlines around £31 billion of projects over the next 12 months, including over £1 billion of demand for "architectural, engineering and design services", with a further £650 billion highlighted over the next decade.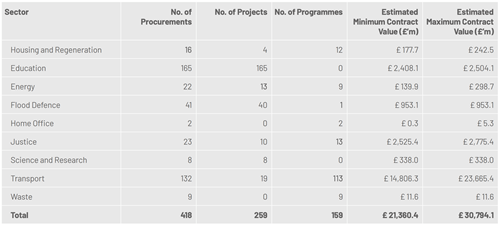 Source: Infrastructure and Projects Authority (IPA).
Chair of ACE's procurement and pipeline group, Neil Humphrey (Waterman), welcomed the publication of the pipeline in a statement to the industry media this morning, "Full transparency in this area is crucial to ensuring our members have the right mix of skills, expertise and experience to deliver ambitions to Build Back Better. As the delivery partner of choice for public sector clients, the pipeline's publication also means we are poised and ready to play our part in enabling swifter delivery and meeting Project Speed's aspirations."
ACE worked closely with the IPA to improve the document over the last few months, outlining areas where more detail would help members make best use of the detailed publication.
Humphrey added: "The volume and scope of the projects and programmes in the pipeline reveals some of the detail behind commitments for post-pandemic recovery and, longer-term, to a Net Zero future. I'm pleased that ACE was able to support its members to deploy capabilities to best-effect by ensuring that additional project details were provided this year. This was a simple but common-sense improvement which will ensure the document is even more useful for the industry."
In addition to the pipeline, the IPA also published Transforming Infrastructure Performance: Roadmap to 2030 which, building on ACE's own Future of Consultancy campaign, as well as Consultancy 4.0 and recently published Construction and Consultancy Playbooks, explores a new approach to construction and delivery.  
Helping members digest the announcements
Neil Humphrey has also written a blog outlining his immediate reaction to the document's publication and the detailed member-only briefing explores the procurements in the pipeline in more detail.
In addition, both ACE and EIC members are invited to attend the next policy forum meeting on Thursday 22 September. We will be joined by Simon Lawrence, IPA strategy director as guest speaker, and we will also hear from Emma-Jane Houghton, commercial director for the NHS New Hospital Programme, about specific procurement opportunities for members in that sector.  Sign-up today!
Find out more about the Procurement and Pipeline group at ACE. Search for construction pipeline on our site. Download your exclusive member-only briefing below.