Richard Shennan of Mott MacDonald walks us through the need for "disciplined agility" and the firm's Innovation Framework in the third of our Cutting through the Hype blogs.
H
ow can we use data and technology to help people make better decisions and secure better outcomes? Staying focused on this fundamental questions is an excellent place to start if – as the title of this series of blogs suggests – we need to cut through the hype around digital transformation.
The approach we take at Mott MacDonald to answering this question is problem led. We look at the specific challenges our client's face and ask "what if we knew….", from there it's a short step to "how could we understand this" and finally "what data would power this". We aim to give  decision makers useful, credible and actionable information in a format that works for them. We do this by linking ever larger data sets to carefully selected sense-making technologies.
Put even more simply, we connect innovation to the outcomes that our clients are looking for, which in turn deliver social, economic and environmental benefits.
Disciplined agility
In an earlier blog in this series, Jon Frost of BWB noted that the sheer number of opportunities being created by data and technology make knowing which horse to back a really significant problem for consultancy businesses.
At Mott's we know we need to be innovative. Competition is fierce, not only from traditional engineering consultancies but also from niche start-ups, technology providers, and advisory businesses. We need to be able to start small but think big, fail quickly, closing down projects that aren't delivering while rapidly scaling up the successes. Disciplined agility is the key to success.
We connect innovation to the outcomes that our clients are looking for, which in turn deliver social, economic and environmental benefits.
Richard Shennan
The Mott MacDonald Innovation Framework
To execute this approach we've developed an Innovation Framework that every technology development in which we invest has to follow.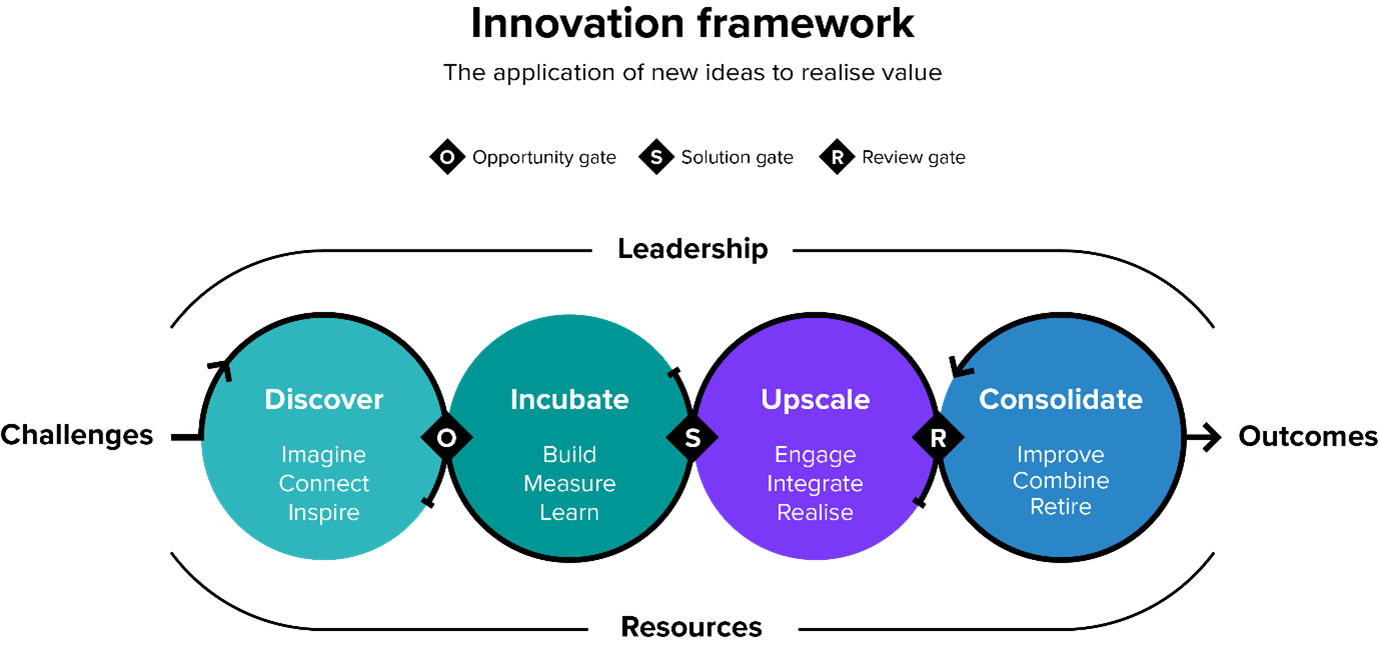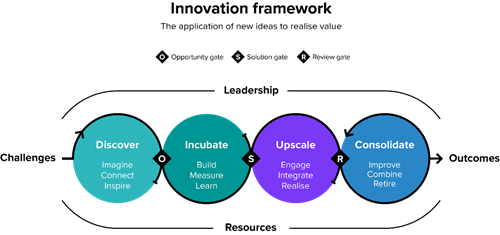 To explain how this works, lets looks at how we took one of recent success stories, the Moata Route Optimiser tool from a problem statement to a tool that can be deployed around the world – delivering benefits for our clients and potentially generating substantial revenues.
The basic problem is that when designing a route for a long-distance pipeline there are many alternatives, each with their own environmental, social and economic advantages and disadvantages. Owners and developers always need to optimise against multiple criteria – capex, opex, carbon, community impact, regulatory requirements and so forth. Traditionally it's simply been too costly to analyse more than a handful of options – and as a result, the route chosen is very likely to be sub-optimal.
So at the end of 2016 we asked the question, "what if all the engineering and costing analysis could be automated?". If we can get hold of the data, that should allow us to assess multiple options very quickly, leading to better decision making and improved outcomes
The idea moved into the incubation phase early in 2017. We built a Minimum Viable Product – under the working title TAP which we piloted with clients in the UK water-sector.
The pilots were a success and gave us the confidence to make the investments required to upscale the idea. Throughout 2018 we worked on TAP with an innovative start-up from our Digital Ventures eco-system. Together, we improved overall effectiveness to the point where we could move it on to Moata, the Mott MacDonald Digital Solution platform. At this point marketing and sales campaigns kicked in and we put in place a structure for capturing feedback that could underpin potential new features during the consolidation phase. 
Early measurements are showing a 4-10% reduction in construction costs and savings of 40% in a design phase completed six weeks faster than via traditional delivery. In the short run this translates very quickly into multimillion pound savings across our clients' portfolios. Longer term, we are seeing big business development opportunities as we grow our market share and win-rate in this area of work, as well as reinforcing our reputation as a provider of cutting-edge digital solutions.
The campaign, Cutting Through the Hype runs over the summer of 2021 and is led by ACE's digital transformation group. This blog is the third of a series of five exploring digital transformation. Download your copy of the report below.