This is Engineering Day returns for its third year with an exclusive online exhibition showcasing what a Net Zero society might look like in 2050.
The Royal Academy of Engineering has commissioned digital artist Ashly Lovett to rework classic paintings by Van Gogh, Constable, Monet and Pissarro which incorporate sustainable engineering innovations that could shape the carbon free world of tomorrow, to celebrate This is Engineering Day 2021.
Van Gogh's Factories at Clichy, Constable's The Wheat Field, Pissarro's La Rue Saint Honoreand Monet's The Seashore at Sante-Adresse, have been recreated to show how cleaner, greener innovations – all created by engineers – could transform everyday life and landscapes in the future.
In addition to its online display at the Museum of Engineering Innovation, the paintings will also be shown at COP26 in Glasgow.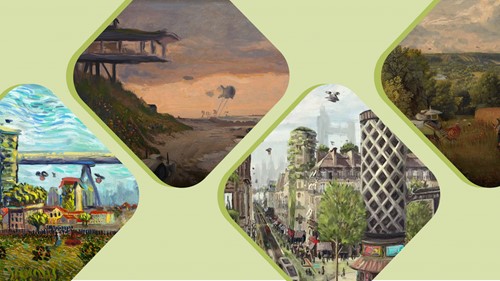 Dr Rhys Morgan, director of engineering and education at the Royal Academy of Engineering says: "These famous masterpieces originally captured a snapshot of daily life at a time when the consequences of carbon emissions were not known."
"By reimagining them for 2050 we hope to start a conversation about how engineers can help shape our Net Zero future and inspire the next generation to join the profession. To realise the emission-saving technologies imagined in these artworks, the UK needs more engineers – for example, National Grid estimates that the UK energy sector alone will need to fill 400,000 roles between now and 2050 to reach Net Zero."
This is only part of the day's celebrations - follow This is Engineering for more.