In a letter published in today's Times newspaper, we have highlighted the fact that monthly apprenticeship numbers are routinely below targets set out by the government as part of its industrial strategy and will woefully short of its pledge for three million apprentices by 2020. More than 60,000 new apprentices a month are needed, yet last week's figures show only 22,300 new apprentices started in the last month.
The joint signatories of the letter have called for the Institute of Apprentices to be able to design and approve apprenticeship standards much more quickly and for more flexibility in how employers can spend the apprenticeship levy contribution, including spending throughout the supply chain.
As well as Dr Nelson Ogunshakin OBE, the letter was signed by the leaders of London First, North West Business, London Chamber of Commerce and Industry, NHS Employers, Creative Industry Federation, Association for UK interactive Entertainment, London Colleges, Tech London Advocates, and Freight Transport Association.
View the letter at the Times (subscription). Download a copy of the letter.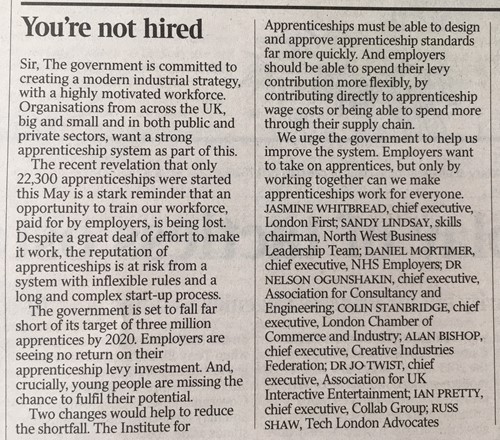 ACE supports the Technical Apprenticeship Consortium (TAC) which brings together consultancy and engineering firms to encourage the recruitment and training of technician and degree apprentices, helping members to meet their business and HR needs. TAC recently wrote to Anne Milton MP, Minister for Apprenticeships and Skills to raise a number of issues around apprenticeships, including the:
Slow progress in gaining approval for apprenticeship proposals, standards and end point assessment plans;
Policy approach towards the development and subsequent mandating of qualifications to underpin apprenticeships;
Lack of flexibility relating to the use of the apprenticeship levy; and
Funding caps related to high skilled, quality and valued apprenticeship delivery.
TAC is hoping to meet with Ann Milton's team to discuss these issues in person and in due course.