The Infrastructure and Projects Authority has published its 2022 Annual Report on the Government Major Projects Portfolio (GMPP).
The analysis provides a snapshot of progress on the GMPP, updating on 235 projects and programmes worth around £678 billion, which are expected to deliver an additional £762 billion in "monetised benefits."
In the last year 76 new projects have joined with 25 being completed or cancelled. Covering spending across 18 government departments, the report splits projects into four categories: Infrastructure & Construction, Transformation and service delivery, military capability and information and communications technology.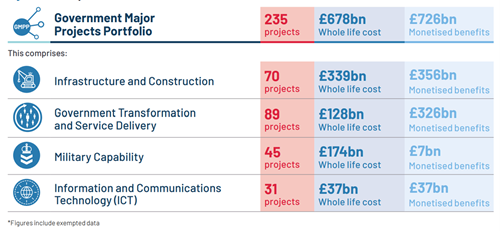 To assist members in digesting the 80 page report and accompanying datasets, ACE's policy team has produced a member-only briefing which can be downloaded below. Simply login or register on our site with your work email address to access the document.
In the foreword to the report, Jacob Rees Mogg, Minister of State at the Cabinet Office said: "These major projects and programmes allow us to meet our ambition of being smarter and more efficient in everything we do, but perhaps more importantly than that, in the real world, they save lives, change lives and provide a better future for all."
Commenting on the publication of the IPA's Annual Report, Guto Davies, head of policy at ACE said: "Providing a range of information on 235 projects, the report and associated datasets from the IPA will ensure we are continuing to track progress on previously made commitments. It is vital for the stability of the industry and to ensure our members have the long-term skills and innovation in place, that there is transparency in this area.
"To help digest the publication, we've produced a summary for members, which will ensure that no one misses the key takeaways from this report."
Download your briefing below.