Last updated: 3 April 2020 (8.30am).
To help ACE members ensure they are aware of the latest information on the coronavirus (or COVID-19), we have produced this online resource. We will be updating this page as and when updated information is made available. However, given the fast-moving nature of the situation, please ensure you also keep up-to-date with the latest from the government, through the links outlined below. 
We've also launched a webinar series, Navigating COVID-19 covering the major issues your business is currently facing. Find out more, replay previous episodes, and sign-up now.
Please skip to a section:
NHS information
Hygiene advice
Stay at home advice, site operations and key workers
Financial support for businesses
Additional support for businesses
Self-employed Income Support Scheme
Public procurement and contracts
Apprenticeships
Planning
ACE and coronavirus
---
NHS information
Learn about the risk and symptoms of coronavirus from the NHS.
You should stay at home if you have either:
A high temperature – you feel hot to touch on your chest or back
A new, continuous cough – this means you've started coughing repeatedly
Do not go to a GP surgery, pharmacy or hospital. You do not need to contact 111 to tell them you're staying at home. Testing for coronavirus is not needed if you're staying at home.
How long to stay at home:
If you have symptoms, stay at home for 7 days
If you live with other people, they should stay at home for 14 days from the day the first person got symptoms
If you live with someone who is 70 or over, has a long-term condition, is pregnant or has a weakened immune system, try to find somewhere else for them to stay for 14 days.
If you have to stay at home together, try to keep away from each other as much as possible.
Use the online 111 NHS coronavirus tool if:
You feel you cannot cope with your symptoms at home
Your condition gets worse
Your symptoms do not get better after 7 days
Then use the online 111 coronavirus service. Only call 111 if you cannot get help via the web. 
---
Hygiene advice
Best-practice can help prevent the spread of infection. Where possible you should:
Use soap and/or alcohol-based hand sanitiser and wash your hands regularly for at least 20 seconds
Clean surfaces and ensure waste is removed on a daily basis
Ensure your heating, air-conditioning or ventilation is well-maintained
Avoid using your hands! Instead should cover your mouth and nose with a tissue or use your sleeve when you cough or sneeze
Put used tissues in the bin ASAP
Avoid touching your eyes, nose or mouth with your hands if they are unclean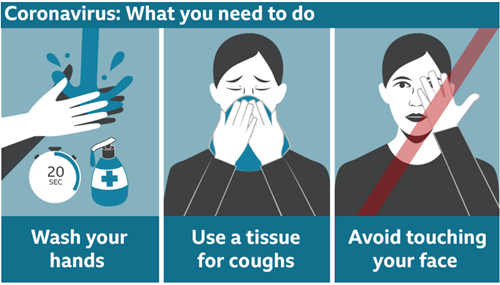 ---
Stay at home advice, site operations and key workers
As of 23 March 2020, the official advice is for people in the UK to stay at home. You should only travel to and from work if this "absolutely cannot be done from home". The full government guidance can be read here.
The advice in England and Wales as it currently stands excludes construction sites. To implement the Government's social distancing recommendations, the Construction Leadership Council (CLC) has published new Site Operating Procedures. It is strongly recommended that these procedures are implemented by every operational construction site, with the aim of ensuring a standard approach across the industry that all firms and workers can adopt. on 30 March the CLC published advice for the temporary suspension of sites.
The Scottish Government has confirmed that it is now advising construction sites to close. It is currently developing guidance for business on how to respond, and how to confirm whether their activities are essential or non-essential.
Secretary of State at BEIS, Alok Sharma, has written an open letter (31 March) to the UK's construction sector outlining the important role of the sector and reminding them that it is consistent for people who are working in construction to be able to travel on public transport to their place of work. He also reminded everyone to follow the CLC's  site operating procedures which align with the latest advice from Public Health England.
Key workers and schools
Schools closed for most in the UK on Friday 20 March 2020. However, owing to the nature of their work, staff of a number of ACE members may qualify as a "key worker". This means that the Government has made some educational provision available for their children. 
Examples of who might qualify include those who will keep the air, water, road and rail passenger and freight transport modes operational and those working on transport systems through which the supply chains pass. 
Other roles covered include those working in the oil, gas, electricity and water sectors (including sewerage), IT and data infrastructure sector and primary industry supplies, as well as key staff working in the civil nuclear, chemicals, telecommunications (including but not limited to network operations, field engineering, call centre staff, IT and data infrastructure, 999 and 111 critical services) and waste disposal sectors.
---
Financial support for businesses
The Government has launched a new website pulling together all of their recently announced Coronavirus Business support in one place online, including:

Coronavirus Business Interruption Loan Scheme (UK) – The temporary scheme will support small and medium-sized businesses with access to loans, overdrafts, invoice finance and asset finance of up to £5 million and for up to six years. The first 12 months are interest free and the government will also guarantee 80% of each loan.

On 2 April Rishi Sunak announced further improvements to the scheme following feedback from businesses, including ACE members, who were struggling to access it. No guarantees are required up to £250,000 (and only 20% on amounts above that), CBILs are extended to businesses with turnover £45m- £500m, and the requirement for commercial loan options to be exhausted first, was removed.

Coronavirus Job Retention Scheme (UK) – All employers with a PAYE scheme will be able to access support to continue paying part of their employees' salary. HMRC will reimburse 80% of their wages, up to £2,500 per month to safeguard workers from being made redundant. The scheme will cover the cost of wages backdated to March 1st and is initially open for three months, but will be extended if necessary.
Download a full guidance note on Coronavirus Employment Schemes produced by ACE for the CLC, read a blog on the scheme and the new government advice for employers and the one for employees. 
Statutory Sick Pay (SSP) relief (UK) – Small and medium-sized businesses will be able to reclaim sick pay paid for staff sickness absence due to coronavirus. This refund will cover up to two weeks' SSP per eligible employee who has been off work because of coronavirus.
Time to Pay (UK) – All businesses and self-employed people in financial distress, and with outstanding tax liabilities, may be eligible to receive support with their tax affairs through HMRC's Time To Pay service. These arrangements are agreed on a case-by-case basis and are tailored to individual circumstances and liabilities.
COVID-19 Corporate Financing Facility (UK) – The Bank of England's scheme will buy short-term debt from larger companies. This will support companies which are fundamentally strong, but have been affected by a short-term funding squeeze. Will only be of interest to large ACE members.
VAT deferral (UK) – Valued Added Tax (VAT) payments have been deferred for three months This is an automatic offer with no applications required.
Small Business Grant Funding (England) – The Government is providing additional funding for Local Authorities to support small businesses that already pay little or no business rates. This will provide a one-off grant of £10,000 to eligible businesses to help meet their ongoing business costs.
Applications must be made to your local authority. More information here.
Small Business Grant Funding (Wales and Scotland) – As above, but administered by the devolved governments in Cardiff and at Holyrood.
Visit the dedicated websites aimed at Scottish and Welsh companies.
Specialist business helplines have been set up and are available in England (0300 456 3565, Mon-Fri 9am to 6pm), Scotland (0300 303 0660), Wales (0300 060 3000) and Northern Ireland (0800 181 4422). HMRC have set up a dedicated coronarvirus helpline which can be accessed on 0800 0159 559.
A number of private lenders are also making funds available to small businesses impacted by COVID-19, including £2 billion from Lloyds Banking Group and £5 billion from NatWest.
---
Additional support for businesses
CITB have announced that they will be suspending the industry levy collection for an initial period of three months. Find out more. 
Companies House announced that businesses will be given an additional three months to file accounts to help companies avoid penalties as they deal with the impacts of COVID-19. Full guidance can be found on their website. They have also shared a dedicated coronavirus resource.
The Government Equalities Office has suspended the obligation for companies to report on their gender pay gaps for this financial year (2020/21).

The Foreign Office is currently advising British nationals to avoid all non-essential foreign travel. View the latest travel advice.
The Department for International Trade has shared a resource for companies who trade internationally and deliver services abroad.
ACAS has published information for employees and employers, including information on simple steps to help protect the health and safety of staff, sick pay and absence from work. ACAS is also hosting a series of webinars on employment issues, sign up here.
The HSE has published guidance for employers on protecting home workers – read it here.
CIPR share their top tips for communicating in a time of crisis.
CIPD's fact sheet on coronavirus.
---
Self-employed Income Support Scheme
On 26 March 2020, the Chancellor announced the much-expected package of support for the self-employed. 
The Self-employment Income Support Scheme (SEISS) will support self-employed individuals (including members of partnerships) whose income has been negatively impacted by COVID-19.The scheme will provide a grant to self-employed individuals or partnerships, worth 80% of their profits up to a cap of £2,500 per month.
HMRC will use the average profits from tax returns in 2016-17, 2017-18 and 2018-19 to calculate the size of the grant. The scheme will be open to those where the majority of their income comes from self-employment and who have profits of less than £50,000. The scheme will be open for an initial three months with people able to make their first claim by the beginning of June.
Further details on eligibility criteria, how and when you can access it can be found on the Government Business Support website.
---
Public procurement and contracts
The Cabinet Office published a Procurement Policy Notice on responding to COVID-19. It emphasises the flexibilities available under the regulations for public authorities to make urgent/direct awards in exceptional circumstances (by-passing much of the usual process).
On 20 March, the Cabinet Office published a second notice with information and guidance for public bodies on payment of their suppliers to ensure service continuity during and after the current coronavirus outbreak.
Build UK have produced a note covering contractual issues caused by Coronavirus.
---
Apprenticeships
The Department for Education has published its apprenticeship response to COVID-19. 
They are implementing new measures to make it easier for apprenticeships to continue and complete in a different way if they need to, or to break and resume an apprenticeship later when it becomes possible.
---
Planning
Planning committees – Sec 78 of The Coronavirus Act 2020 empowers the Sec State to bring in regulations that allow for provisions for council meetings, including local planning authorities, to be held remotely and without councillors being physically present. This creates a framework for virtual council activity. It is now up to the Secretary of State to bring forward the regulations which hopefully will be in the next few days.
The chief executive of Manchester City Council has been delegated powers to decide planning applications during the COVID-19 outbreak. Joanne Roney will also make decisions on listed building consent and tree-preservation orders. Read more at the Planner magazine. 
---
ACE and coronavirus
See all of ACE's coronavirus/COVID-19 content here.
ACE has launched a new webinar series, NAVIGATING COVID-19 to help your business through the difficult weeks and months ahead.  Free for members and non-members to attend, but places are limited, so sign-up now.
We've a number of blogs on specific issues: Rosemary Beales on contracts and coronavirus, the ACE Emerging Professional's tips and tricks for working from home, Wendy Lasebikan on the Coronavirus Job Retention Scheme.
On behalf of its members, ACE wrote to the Chancellor outlining a series of strategic interventions to help the industry deal with the economic fallout from COVID-19.
ACE has taken the extremely difficult decision to reschedule or cancel a number of conferences and events in anticipation of expected disruption to business activities owing to coronavirus / COVID-19. The Consultancy and Engineering Awards and the Future of Consultancy Conference will now take place on Tuesday 22 September.
ACE and EIC are currently operating as normal, although following Government guidance staff are working from home.