To continue to help members through the exceptional times we're living through, the Board has agreed some changes to how ACE operates.
Firstly, ACE will explore opportunities for co-location to work more collaboratively with members and we hope to eventually secure a new hub office in London.
Secondly, we will reshape and refocus our activity to better meet the shifting needs of our members. We will bolster our member-support and policy development offering through closer collaboration with our sister organisation, the Environmental Industries Commission (EIC). As well as boosting our environmental credentials in the widest sense, this means:
A larger policy team will be responsible for developing policy, fuelling campaigns and shaping engagement across ACE and EIC. This will be led by former EIC executive director Matthew Farrow who now becomes Director of Policy for the two organisations.


A new membership and business engagement team unit will support all members on a day-to-day basis – whether that's managing our groups and online events, developing agreements and contracts, or our apprenticeship work through TAC. This is led by Darrell Matthews who becomes Director of Membership & Business Engagement.
Commenting on the changes, Hannah Vickers, chief executive at the Association for Consultancy and Engineering (ACE) said: "I'd like to thank you in advance for your understanding as we move to new ways of working that will allow us to continue to champion your business at the highest level, while making the case for investment in construction to underpin our economic recovery."
The full new structure for ACE and EIC can be viewed in the organigramme below.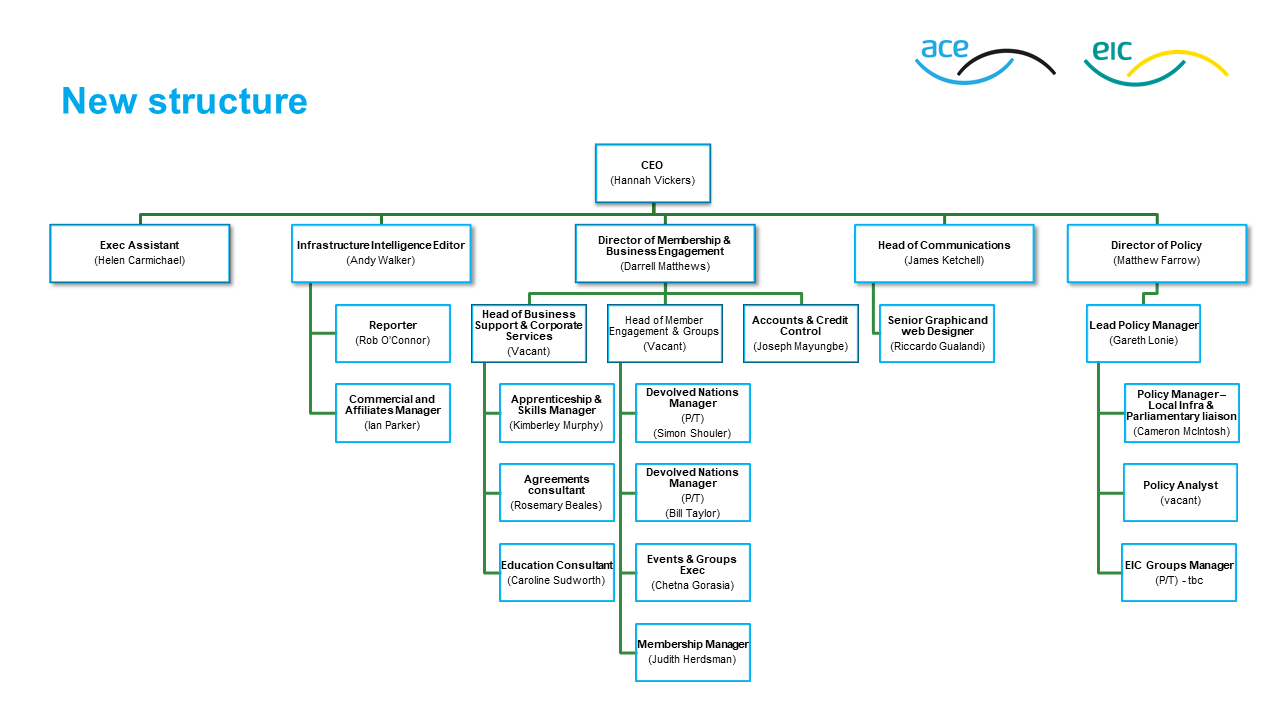 Click here for a full screen version.

Please note that a number of roles are still to be filled and will now be advertised externally. Julian Francis, Sam Ibbott, Wendy Lasebikan, and Nadene Mann will leave ACE in the coming weeks. Tam Simmons will join TRS on secondment to support the launch of the CLC's Construction Talent Retention scheme.