Following a series of in-persona and virtual events, major announcements and press releases, we help members' digest built everything that happened at built environment day at COP26.
The Construction Leadership Council (CLC) had the headline session with an event showcasing what has been, and what remains to be done for the industry to meet society's ambitions on Net Zero.
The event started with the premiering of a new film, Building a Greener Britain which has been commissioned by CLC and produced in partnership with ITN, to showcase the cutting-edge sustainable methods the wider industry is adopting. Replay the video on CLC's website now, by clicking the image below.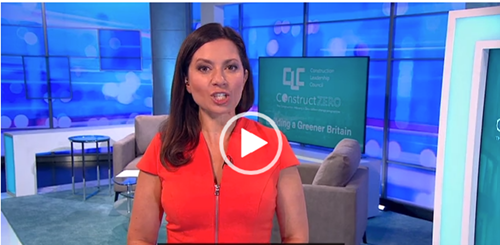 The event itself was co-chaired by Sarah Linnell of ACE member Cundall, a sustainability engineer and young professional and Andy Mitchell, chair of the CLC and chief executive of Tideway. ACE members Atkins and Costain, were among some of the business champions exploring the major challenges they face. Replay the event in full in the video below.
Among some of the major announcements made on stage, came one from the Construction Industry Council (CIC) which shared the Carbon Zone: professional institutions' climate action plan. Signed by ACE and 40 other organisations, it identifies 10 areas of work and 72 deliverables to make tangible progress on Net Zero. More details can be found on our website.
The CLC also shared the first ever COnstructZero performance framework dashboard. The cross-industry improvement programme committed to releasing the figures last year. These will be updated on a quarterly basis. Download your copy from the CLC website today.
Following the CLC event, we live tweeted from a follow-up panel discussion. CBI and the New York Times came together to discuss whether Net Zero cities were a pipedream in Glasgow, with a panel which included Sarah Prichard of Buro Happold and chair of the ACE and EIC Net Zero group.
Alongside guests from Hitachi Energy, Hermes and the CBI, Sarah made clear to the international audience that we already have the technology to realise Net Zero cities. She outlined that the consultancy sector was key in helping realise client aspirations on Net Zero and by working in partnership with them, we could unlock a carbon free future. Replay the event on twitter, here.