The Infrastructure Projects Authority (IPA) has released new analysis of the National Infrastructure and Construction Pipeline focusing on the next two years.
Covering £37 billion worth of contracts that will be brought to market before the end of 2021, the pipeline will provide Government, local authorities and devolved regions with a clear roadmap, while building certainty for ACE members, and the wider industry.
In all the pipeline has identified 340 separate procurements across more than 260 projects and programmes to deliver construction, repair & maintenance and consultancy. High-profile projects including HS2's Curzon Street station in Birmingham, road schemes in the East and the refurbishment of the National Portrait Gallery, are all included in the analysis.
Commenting on the IPA's analysis, Darrell Matthews, Director of Membership at the Association for Consultancy and Engineering (ACE) said: "Our members will be delighted at the additional certainty that this analysis brings — there are plenty of shovel ready projects out there. Let's get going!"
Economic infrastructure accounts for more than half of the estimated value of planned procurements (worth up-to £22.3bn). The remaining estimated value of planned procurements is split almost equally between social infrastructure (up to £5.3bn), defence (up to £5bn) and regulated utilities (up to £4.7bn).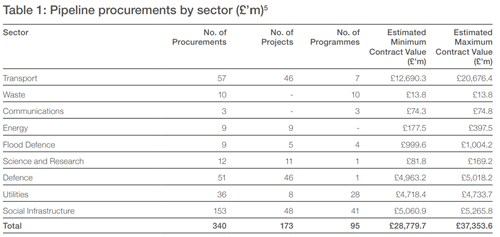 Source: Infrastructure Projects Authority (IPA).
Construction work – including the building, design and build and civil engineering – makes up over half of the work going out to market in 2020/21. Of the remaining estimated contract value, up to £11.6 billion is architectural and engineering services, up to £0.8 billion is research and development and consultancy services and up to £5.7 billion is for repair and maintenance services.
ACE's member-only briefing note on the pipeline can be downloaded below. You can download a copy of the IPA's analysis here.